Our Culture and Philosophy:
"Always do the right thing, do the best you can, and treat others as you would like to be treated. This answers the three most important questions people are concerned with: (1) Can I trust you? (2) Are you committed to excellence? (3) Do you care about me?"
William Quaglia
Founder & President of In The Cloud Technology, LLC – Telecom Consultant, Solutions Provider & Advisor, Technology Educator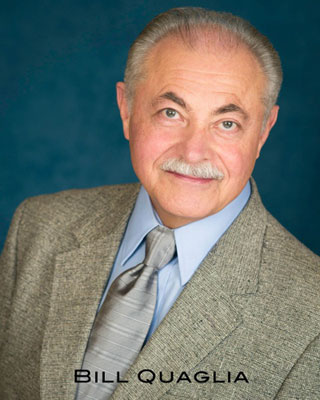 About Bill
Bill Quaglia has had countless years of experience providing his clients with expert telecommunications advice. He takes the time to listen to his clients concerning all aspects of their business model. In doing so, Bill brings a creative and unique perspective to how telecommunications and cloud services can bring more security, higher profitability, and greater efficiency to businesses. Bill's goal is to help his clients be successful competitors in today's global, national, regional, and local markets.
Awards and Experience
Since the late 1990's, Bill has been gaining extensive experience and training in the Telecommunications industry. His accolades, course completions, interactive trainings, and certifications range from 1999 to present.
Awards and Certifications
1999: Leadership Achievement Award – Cognigen Networks
2000: Leadership Achievement Award – Cognigen Networks
2001: Regional Top Trainer Award – Cognigen Networks
2001: Exceptional Leadership Award – Cognigen Networks
2009: Telarus Agent of the Month (March)
2013: TCA Telecommunications Professional Certification
Trainings and Educational Sessions
2005:
Course completion / Telecommunications – Telarus Inc Specialist Certification
2005-2013:
Over 1200 hours of Interactive Carrier Training and Educational Sessions covering:
ACC Business, Accel Networks, Accu-Conference, Advantix, Airband,Airespring, Alpheus, Alteva, AT&T, Bandtel, BBComm, BridgeWave, Broadsky, Broadview, Cbeyond, CenturyLink, Charter Business, Cogent Communications, ColoHouse, Comcast, DukeNet, Earthlink Business, Ernest Communications, GTT, InContact, Integra Telecom, Level 3 Communications, Masergy, MegaPath, Mosaic Networks, Mushroom Technologies, New Edge, Nitel USA, NE Fiber, Nuvio, Optimum, Polycom, PowerNet Global, Rack Space, Raging Wire, RealLinx, TelePacific, Telnes, Broadband, Telarus, Telex, Time Warner Cable, TW Telecom, USA Digital, Veracity, Vocal IP Networkx, WaveMax. West IP Communications, Windstream, Paetec, XO, and Zayo.
Certificates
Better Business Bureau — Accredited Business
Technology Channel Association — Certified Telecommunications Professional
News & Reviews